TV SHOW DEVELOPMENT & PITCHING
The Most Powerful Way to Drive Results
Krow wins largest global pitch contest - Hosted by Howie Mandel
A competition series about women that undergo rigorous Navy SEALs training won the fourth annual "So You Think You Can Pitch" session at the Realscreen Summit. Billed as a "big, inspirational doc series," Frogwomen follows 24 women as they endure the elite training regime and the emotional turmoil that goes along with it.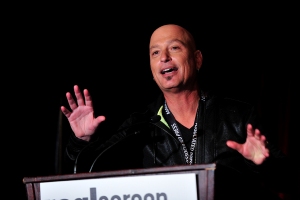 Founded in 2010, with offices on both coasts, one in Los Angeles and the other in Charlottesville, Virginia, Krow Media is an award-winning traditional non-scripted powerhouse that creates and produces content for the global market. They were behind the success of tv shows like Extreme Makeover: Home Edition (ABC), School Pride (NBC), World Poker Tour (Travel Channel), Wedding Day (TNT), Construction Intervention (Discovery), and many more. Krow Media won the biggest pitching contest on the planet called REALSCREEN for a project called "Frogwomen", which presented the question, "Does a female have the mental, physical, and emotional tenacity to make it through the hardest training on the earth and become a U.S. Navy SEAL?".
A pitch is the document that tells producers, networks, and executives everything they need to know about the TV show a writer is presenting. Successful pitches succinctly explain important details about genre and tone, and prove that the writer has a clear vision for the direction of the series. Pitches vary in length and style, but they most often contain the same basic elements.
Your audience should walk away with a crystal-clear understanding of:
This is where we come in. We can help you develop and pitch your 'concept to screen' as we say in the biz. To be very honest, this process is not easy. However, here some key tips to start to build your pitch deck. If you feel ready, connect with us, and we will explore the show idea.
5 Important Tips for Building a TV Show Pitchdeck
a few reasons to trust krow media
READY TO TAKE YOUR BUSINESS TO THE NEXT LEVEL?
Get A Free Consultation Now!